A few days ago, on a whim, while watching Little House on the Prairie with the fam (hey, we'll soon be living in a little house on the prairie!), I looked up "stainless steel refrigerators in Houston." As I was scrolling, I was seeing prices like $800, $600, etc. Good prices, but not enough to get me excited. Suddenly, I saw one that said, "$250" with a picture of a great-looking fridge with it. It showed pictures of it plugged in and showing that the ice maker worked, it cooled, etc. (Because nothing on the internet lies, y'all. 😉 )
Anyway, Ben called the lady for me because calling people I don't know usually gives me a mild case of anxiety. I just KNEW the fridge would be gone already- I mean it's a STAINLESS STEEL FRIDGE FOR $250 AND THERE ARE 7 MILLION PEOPLE IN HOUSTON WHO WANT IT.
Alas, the fridge was not gone. As it was 7:30 pm on Sunday night, Ben set up to go look at it after work on Monday. He texted me this pic (we shall have some photography lessons soon, wink) to show that it was in fact the same fridge.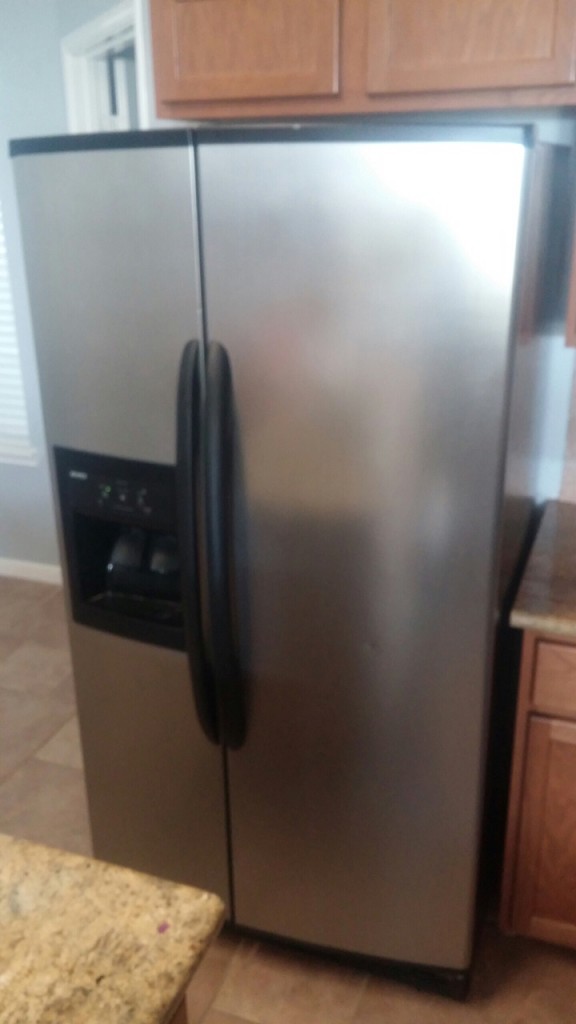 The only issue was that while the ice maker makes ice, for some reason it was having trouble dispensing it. But that can be easily remedied AND she took off an additional $50 for it!
So we got this stainless steel side-by-side fridge for $200. The cheapest one I could find new was around $1200. I would say this was a good buy. 😉 Now, to find my 6-burner stove on Craig's List!